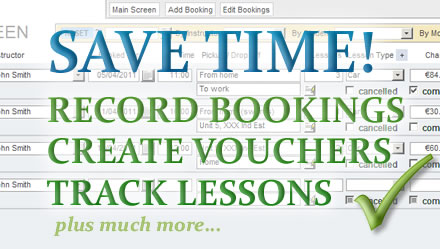 Compatible with 98, XP, Vista, Windows 7 & 8
(Internet security programs can prevent your download, so you may have to disable them temporarily. Our software is virus checked.)
EU: ONLY €89 EURO!
!Limited Offer!
EU: ONLY €69 EURO!
US: ONLY $99 USD!
!Limited Offer!
US: ONLY $79 USD!
(Our software is suitable for any foreign country but the program is only in English)


Driving School Software
SAVES HOURS IN ADMINISTRATION EACH WEEK!!!
Driving instructors: Reduce your administration and workload by hours each week. Get a simple software tool to help keep track of all your block bookings, including how many lessons a student has left in credit.

Lessons Diary for PC &
Student Records Database
Manage student records with ease
Schedules kept in database, print out the week ahead
At a glance student status reports
Manage / print vouchers and voucher codes!
Create lesson plans & autoprice lessons
Instant reports : Student lesson reports, financial reports, sales reports, etc.
Easy to use: Consistent look and feel throughout
Get up and running in minutes
Install on PC or Netbook